Changing Email Addresses in Therefore Reports
Changing Recipients in Therefore Reports

This guide will show you how to add or remove recipients in a Therefore report. You will need permission to the Therefore Solution Designer and permission to alter the report. If you do not have this installed, your IT may be able to do this by following the guide
here
and selecting Solution Designer at the features selection.
The Process

Open Therefore Solution Designer

Navigate to the report you wish to adjust


Design > Reporting > SQL Server Reporting Services > Your desired report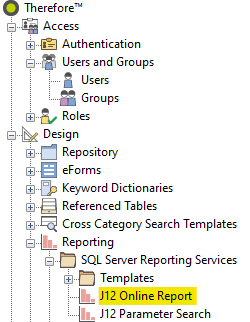 Double click your report

Navigate to the "Subscription" tab


Enter the new email address into the Email field. To remove an email address, simply delete the specified address


To add multiple email addresses, you need to separate these using a semi-colon ;


Click OK once these changes have been made

You have now added (or removed) an email address from the list of recipients for the specified report.

If you require any assistance with this, please feel free to contact the IT@Spectrum support team at
support@itspectrum.co.uk
and they will be happy to assist.
Related Articles

Editing Report Recipients in UniFLOW

Editing Report Recipients This guide will show you how to edit the recipients in existing UniFLOW reports. This will allow you to change who UniFLOW reports are sent to when they are produced as long as you have the relevant access to the UniFLOW ...

Changing Named User Assignments

Changing Named User Assignments This guide will briefly show you how to change who the named Licenses are assigned to within Therefore. You will need access to the Therefore Solution Designer as an administrator in order to make the changes to these ...

Adding a New Stamp in Therefore (Solution Designer)

Adding a New Stamp to Therefore This guide will show you how to create a new stamp in the Therefore Solution Designer for all users to use. You will need the Therefore Solution Designer on your PC and the relevant permissions to access the Stamps ...

Increasing Drop-Down Record Count

Increasing Record Count for Drop-Down Box In Therefore, a drop-down box can only show a certain number of records; this is to ensure the performance of the searches are affected as little as possible. This article will guide you through the process ...

Changing Security Permissions in Therefore

Changing Security Permissions in Therefore This article will show you how to change user/group permissions within Therefore to ensure that users can only access what they need to access. This process applies to both categories and workflow ...