How to Allocate Licenses in Invu
How to Allocate Licenses in Invu

This guide will instruct you through the process of how to allocate and re-allocate user licenses within Invu. You will need to be able to access the Administration section in Invu to be able to assign licenses.

Changing License Allocations

Open Invu

Navigate to the "Administration" section


Yours may look slightly different to the guide and say the word "Administration"


Navigate to ""Product Registration" > "Allocate users to products"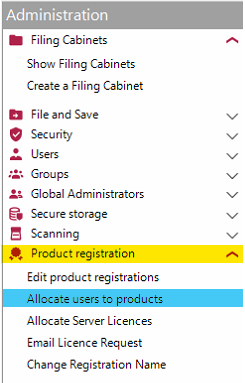 Click No to the "Check licenses online first?"

In this list, you can allocate the relevant licenses to the relevant users by clicking the corresponding tickboxes


Once the licenses have been changed, click OK at the bottom right of the window.

If you require any assistance with this process, feel free to contact our support team at
support@spectrum.tech
and they happily assist.
Related Articles

Managing Licenses in Qlik Sense

How to Apply Licenses in Qlik This guide will instruct you on how to re-assign licenses in Qlik Sense. In order to do this, you will need access to the Qlik Management Console (QMC) and the relevant permissions to change license allocations. ...

Prevent Spindle from Using a License

Preventing Users from claiming a Spindle license This article will describe how to stop a certain machine or user from claiming a Spindle license when they log into their PC. This can be handy for machines which require Spindle installed but do not ...

Adding Users to Groups In Therefore

Adding users into Groups This guide will show you how to add users into specific groups in Therefore. The users will first need to be added into the domain group "Therefore Users" in order for them to be able to access Therefore. When the user is not ...

Changing User Assignments in Therefore Workflows

Changing assigned users in Therefore tasks This guide will provide instruction on how to change the users which workflow instances are assigned to in a Therefore workflow. There are multiple methods which are used to assign workflow tasks in ...

Adding New Users to CWC

Adding new users to CWC (Workspace Collaboration) This guide will instruct you through the process of adding new users into the Workspace Collaboration (CWC) Portal, using Azure AD. This system can also link with Therefore Online so the same login ...