Prevent Spindle from Using a License
Preventing Users from claiming a Spindle license

This article will describe how to stop a certain machine or user from claiming a Spindle license when they log into their PC. This can be handy for machines which require Spindle installed but do not require access to print to Spindle Pro or Spindle Pro Auto.

Configuring this function

Open Windows Explorer and navigate to "C:\Program Files (x86)\Draycir\Spindle Document Distribution"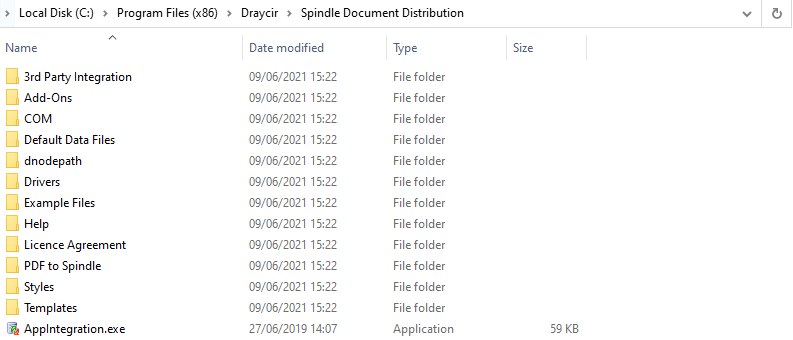 Locate the program "SpindleDocumentDistributionTSConfig.exe and then Right-Click this and select "Run as Administrator"


Select the relevant option for what you would like to achieve:


Remove Local Mahine will prevent that specific machine from claiming a Spindle license no matter who is logged in

Remove User will prevent the logged in user from claiming a Spindle license on that specific PC - this does not apply to other PCs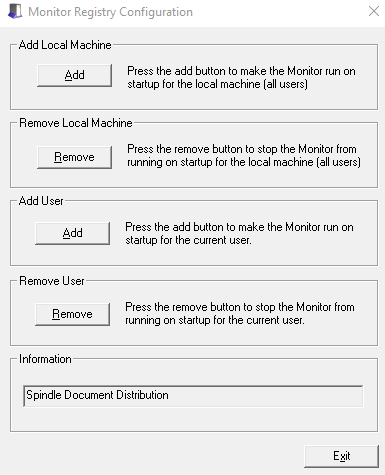 Press Exit once you have made the relevant changes to the configuration

If you require a user or machine to use Spindle again, you can follow this same process but instead of Remove, select Add.

In the event you run into any issues or require assistance from IT@Spectrum, please feel free to contact our support team at support@itspectrum.co.uk.
Related Articles

Installing Spindle Document Distribution

Installing the Spindle Client This guide will instruct you or your IT team through the installation process for the Spindle Document Distribution software we provide for you. This contains step by step instructions to take you through each stage of ...

Checking Spindle User Settings

Checking User Settings in Spindle This article will be a brief instruction guide on how to check the user settings in Spindle are configured correctly. This can also be used to compare settings between users for new installs. You can find how to ...

Managing Licenses in Qlik Sense

How to Apply Licenses in Qlik This guide will instruct you on how to re-assign licenses in Qlik Sense. In order to do this, you will need access to the Qlik Management Console (QMC) and the relevant permissions to change license allocations. ...

How to Allocate Licenses in Invu

How to Allocate Licenses in Invu This guide will instruct you through the process of how to allocate and re-allocate user licenses within Invu. You will need to be able to access the Administration section in Invu to be able to assign licenses. ...

Changing SMTP Settings in UniFLOW

Changing SMTP Setting in UniFLOW This short guide will instruct you how to change the SMTP configuration in UniFLOW for email notifications or scan to email on the Canon devices. You will need access to the "Server Config." section in the UniFLOW ...