Adding Keywords In Therefore
Adding Keywords

This article will give you a brief overview on how to add new keywords into Therefore. This is a simple process intended for Therefore Administrators or users with Admin access. Access to the Therefore Solution Designer will be required for this process. The steps in the guide were carried out on the Therefore server.

The Process

Open the Therefore Solution Designer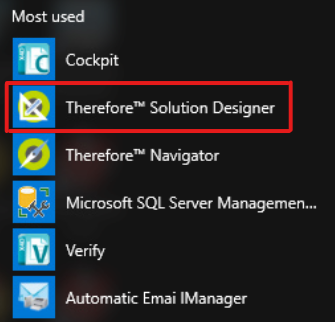 Navigate to the Keyword Dictionaries and locate the list you want to add to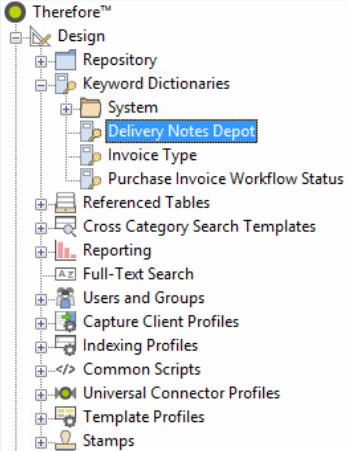 Right-click the dictionary in question and select "Add Keyword..."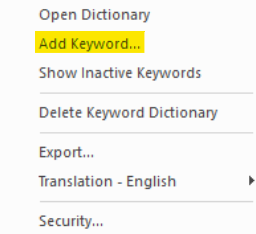 Type in your new Keyword and press the enter key once you are done. You will now see your added keyword in the list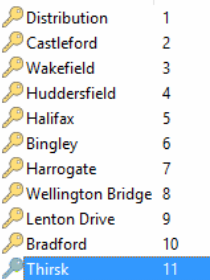 Related Articles

Adding Users to Groups In Therefore

Adding users into Groups This guide will show you how to add users into specific groups in Therefore. The users will first need to be added into the domain group "Therefore Users" in order for them to be able to access Therefore. When the user is not ...

Changing User Assignments in Therefore Workflows

Changing assigned users in Therefore tasks This guide will provide instruction on how to change the users which workflow instances are assigned to in a Therefore workflow. There are multiple methods which are used to assign workflow tasks in ...

Adding a New Stamp in Therefore (Solution Designer)

Adding a New Stamp to Therefore This guide will show you how to create a new stamp in the Therefore Solution Designer for all users to use. You will need the Therefore Solution Designer on your PC and the relevant permissions to access the Stamps ...

Creating a user in Therefore Online

Creating a Therefore Online User This article will guide you through the process to add a new user in your Therefore Online solution. You will need access to the Therefore Solution Designer and also administrator permissions within Therefore. Open ...

Adding New Users to CWC

Adding new users to CWC (Workspace Collaboration) This guide will instruct you through the process of adding new users into the Workspace Collaboration (CWC) Portal, using Azure AD. This system can also link with Therefore Online so the same login ...