Introduction
You've bought IRISXtract, and you're keen to understand how you can best use it within your business. If that's your scenario, you've found the right guide. IRISXtract is a product with lots of functionality and it's key to take in all the learning that will be provided to you by Spectrum during your automation journey. Likely, you've bought IRISXtract to augment a major part of your business and it's absolutely crucial that you use it as efficiently as possible. The guide will be split into a few major parts which you can flick through using the above Table of Contents. As always, we're listening to you and if there's anything you think that's missing, please contact us so that we can best assist you and get the knowledge added into this constantly evolving guide.
Capture Concepts
The goal of capture is to process as many documents with as much data as possible in an automated fashion. This reduces
discrepancies, improves data efficiency and minimises workload. The core thing to remember is the 100% capture of every single document is not always possible. When capturing data, there are several factors that could cause an issue:
Poor quality scanned image.



Not all pages are present (key data is missing).

Data is missing or incomplete (when matching against datasets).
Incorrect data supplied (document does not contain logical information).

In addition to capturing data, the software will assist you in quickly identifying and rectifying issues by highlighting them to you and explaining the problem(s) for you to quickly resolve as an operator.

Best Practice
When issues do occur, check whether the issue is data or quality related and whether it can be resolved quickly. Also consider whether this is
the first time the issue has arisen, or if it's a re-occurring issue present on all versions of the supplier's document. It's key to remember; if an invoice for a supplier normally recognises without issue, don't immediately apply training when one fails. This should be easily resolved and will likely be an exception to the rule. It is important to not over train!
Poor Practice
It is possible to cause longer-term problems with capture and verification by over correcting perceived issues without cross
correlation. Training or re-training the current document that appears incorrect could stop the larger majority working in the future.
When to Escalate
The aim of this document is to provide guidance on how best to use the software and handle issues should they
occur. If you are unable to resolve issues, our support team are able to assist. If you are still in the testing stage of your project, please contact your Business Process Consultant / Automation Engineer. Please be aware that it may not be possible to capture every piece of information from every layout of document automatically, even with training.
Within the application, there are key tools and concepts that will help you quickly and easily validate documents that
haven't been successful at automatically recognising all information.
Opening Verify
The application can be launched from either the start menu or a taskbar/desktop shortcut (if you have 'pinned' the
application to the taskbar). When you open it, you will likely be presented with the profile selection window where you will open the correct profile. Most of the time, this will be 'Verify 1', but your business may also use 'Verify 2' and 'Supervisor'.

This screen may not appear if you only have access to one of the verification profiles.
Once the profile has been selected, you will be shown a list of batches ready for verification. This list of batches is universal and shared amongst all users. The user and date will be blank for untouched batches or will show the last user/date/time if previously accessed. If a user is currently working on a batch, it will be temporarily removed from the list to avoid duplication/conflict. To open a batch and process the documents, double left-click a batch in the list. When the batch opens, you will be presented a screen showing the document images, metadata and a list of documents in the batch.
Navigation
There are several key menus you will use whilst within the capture software, with some menus that can be ignored, the main
important menus are noted below.
File



Edit

Document


Image


View


Options

These will be covered in more detail in the relevant sections of this document, please note not all options or menus will be
required during your use of the software. There are also several quick access buttons, keyboard shortcuts and 'right-click' context menus that will ease the use of the software and provide alternatives to selecting from top-level menus.
Selecting the right document
A key concept is ensuring the metadata displayed on the right-hand pane matches the visual image in the central area.
A simple mismatch of data can appear to happen if you are working with one 'document', yet you select another 'sheet' further down the batch document list. This won't be the case if your project is set to only contain one document per batch as most are by default. Always ensure you are looking at the pages set under the 'current document'. To set the current document:
Right-click the 'Document' line next to the small icon.

The text will be highlighted to show which document is selected.

Click 'Set as active document'.

Deleting Documents
Before starting with the validation of documents, there may be occasions (due to emails captured or documents appearing
amongst a scanned batch), where a document needs deleting from the software. To resolve this, on the batch list to the left, right-click on the 'Document' in the list to bring up a context menu, then either select
'
Delete document
'
or
'
Delete page
'
. Please note to delete a document or page it will need to be set as the active document. You will be prompted with a dialogue box to add a comment as to why the deletion was actioned (though this is not a required field). The document or page will then be marked with a red X.
Splitting Documents
Open Verify.

Open the batch from the job list.

Look along the top bar and select 'Unit Mode'.

Look on the left pane to see units, documents, and sheets.

Right-click the sheet (page) you want to split from.

Select 'Split at this page'.


If there are more than two invoices in one document, you will need to enter each new document and split again until each document is an individual invoice.

Merging Documents
Open Verify.

Open the batch from the job list.

Look along the top bar and select 'Unit Mode'.

Look on the left pane to see units, documents, and sheets.

Ensure the document you want to start from is blue (highlighted).

Right-click the page you want to merge up to.

Select 'Merge till this page'.

Splitting / Merging documents in 'Unit Mode' prevents IRISXtract from using your page count each time you perform a split / merge as it attempts immediate re-analysis of the document.
Escalate to Supervisor
Should you be validating a document and find due to; available data, document quality or some other further reaching issue,
that a document cannot be fully validated, you can mark a document to escalate to the 'Supervisor' queue for further review. This is accessed via the 'Options' menu and the 'Workflow' sub menu, simply select
'
Mark document to be sent to supervisor
'
. When required, these documents can then be accessed via the
'
Supervisor
'
profile when opening the verification software.
Mark for Re-analysis
Depending on the data connections for your solution you may find information for new suppliers or the latest purchase
order data has not yet appeared. This is usually due to a small-time delay before the data becomes available, and when it does, the document will either be easily validated or would auto validate in future.
Rather than waiting and manually validating, you can set a document to cycle back through the process and be reanalysed
automatically after a short delay. This is accessed via the same menu as the escalate to supervisor under 'Options', 'Workflow' and then 'Mark this document tto be re-analysed soon'.
Data Validation
In addition to capturing the raw metadata from the content of a document, the verification software makes use of data such
as suppliers, PO numbers and where relevant PO content down to unit cost and order quantities. Depending on the nature of the data, the document content and layout there will be times where the captured information will not immediately match the data available. When this happens there will be a validation error or query.
Validation by Text Colour
Black: This represents successful verification and capture of the data.
Green: This represents captured information which is believed to be correct and just needs a quick check and manual confirmation (zero VAT rates or where a value is calculated).


Blue: This represents a mismatch of data and that a connection cannot be made between relevant

fields even though a result has been found (supplier against order is different to identified supplier).

Red: This represents missing data or a query that needs resolving to ensure the document passes through correctly (found order number does not exist within the dataset).
How do I see what the software has captured?
The default document view will show you a copy of the original document scanned. There is another view that shows what
has been read by the software. This is very useful to identify validation issues linked to quality where not all characters have been successfully read. What is obvious to the human eye is not always obvious to the software and vice versa.
Select 'Image' along the top menu.

Select 'Free Text: Invoices'.

...to turn the image into blue text allowing you to see the document how the OCR engine sees the document.
What is being looked for?
Depending on your project type, you will either be looking for only 'Header & Footer' data or full 'Line Items'.
The fields to the right of the document preview will show the fields that can be completed but depending on the project may
be spread over several screens. Additional screens can be viewed by using the 'Ctrl' key and the curser 'down' arrow combined. If you are working at a 'Header & Footer' level, you will generally be capturing (but not limited to) the following metadata:
Supplier

Document Reference

Document Type

Order Number (where relevant)

Value of Goods

Total Net

Total VAT

Total Gross

Currency

If working to a 'Line Item' level, you will be capturing the same as 'Header & Footer' but with the additional details:

Order Line ID (the matching order line(s) for the invoice line(s))



Line Quantity

Line Unit Price

Line Total Amount

There will be instances where line item quantities and unit costs will NOT match the PO details being validated against. This
is not immediately a concern as discrepancies will occur, generally this is handled by additional workflow tools that follow on from the initial capture and validation process. Meta Data will need to be defined as per the legal document even if this flags validation errors, these can be overridden as part of the
'
Commit job
'
process and they will have to be handled via an onwards approval process or pricing query.
Manual Validation
Where the automatic capture of metadata has failed, users can quickly and easily add in missing details via lookups or
selecting a result by clicking directly onto the document image. Should the quality of the document not allow the correct answer to be selected (5 read as S, 1 read as I etc.) The user can type in the correct data directly.
Database Dialog
Where associated data is available, (Supplier, VAT reg numbers, PO numbers) users can select the metadata field on the
right-hand panel and using
'
F4
'
open an additional dialogue box where you can search for the correct data.
Results found in the dialogue can be double clicked to add the results into the metadata without the need for manual typing.
If you need to exit the dialogue box without making a selection, use
'
F7
'
.
Matching Supplier & VAT Reg
Key to all documents is finding either the vendor or customer as without an associated account training cannot be applied
and any next step process will not be able to pass the documents through correctly. Ideally vendors (customers) will be identified using a VAT registration number as the primary method, where this fails,
secondary and tertiary methods of Address and Bank Account details can be used.
In worst case scenarios where none of these are available, please contact us to investigate alternative methods. To ensure the most accurate, automated match possible, it will require records to be kept up to date and where VAT reg numbers/Bank Details and such are missing, populated in any third-party tool. To assist with this the
'
F4
'
method can be used for both the Vendor / Customer and VAT reg number fields. If you are using and validating against PO data and the PO number is more easily identified than the vendor, you can use the Ctrl and F1 keyboard shortcut to determine the vendor from the PO data.
Generally, the header and footer details of a document will be captured successfully if there is a clear layout to the document
and labels are positioned sensibly in relation to the result to be captured. The capture software makes use of a wide range of names and terms (even multiple languages) to find the relevant information. Due to the layout of some documents this process can be hindered by issues such as labels on opposite sides of the document to the values, block coloured title sections making content unreadable, or text being clustered so tightly there
is no clear break between label and metadata. The opposite can also be true where text is too far apart to recognise as a
single word or number. In these scenarios, the user will need to either select the details from the document directly or manually type in the metadata.
Always ensure the field on the right-hand pane to be populated is selected first.

Manually type in the required result from result read from the image.

After selecting the field on the right, left click the relevant area or region on the document to populate. If the result is made up of multiple elements and not all recognised in one click, you can hold down the 'Ctrl' key and multiple left click to build up the full metadata result.

Line Items
Line item validation will only apply in projects where the additional level is activated, and a solid PO book is available. Other
types of documents such as overhead invoices can still be verified but will not require the PO and full line validation, these documents will process without complaint when committing jobs.
Validation
To validate a full line item, the PO number will need to appear on each line to allow the quantity and unit cost to be validated.
If the quantity and/or value does not validate against the PO line data, the text will be coloured accordingly, or you may find the line has not been recognised at all.
Ambiguity
In the scenario that more than one line has the same quantity and/or unit value, ambiguity will occur, and you will need
to manually define at least one row to remove the ambiguity. When the ambiguity is removed, the software should auto populate the other line item. If more than one instance of a duplicated result occurs, then more lines will need to be manually populated.
Database Dialog
Using the 'F4' method whilst highlighting the line item PO number field you can search for all items associated to the PO
number (this may be more rows of data than appears on the current document and represents all information stored against the PO). Once you had identified the correct PO row position, double clicking the row in the PO record in the search dialogue will populate the highlighted row in the metadata. This may still leave validation issues if the document genuinely does not match the quantity and/or unit price. As with 'Header & Footer' genuine data validation issues can be manually accepted when committing a job as these will be handled via additional approval processes.
Expanding Line Items
Depending on what has been recognised by the software, you may have more or less rows than needed to correctly match
the PO data relevant to the document. Whilst viewing the line item screen, you can add or remove rows as required.
Under the Edit menu select 'Insert table row...' or 'Delete table row' as required.



Copy and paste or manually type in the PO number to the 'Order No.' field.

Use the 'F4' search functionality to populate the correct rows.
Document Training
Training a document by Supplier
Vendors or Customers can be trained to supplement additional rules to the automated analyse process, which considers
specific document layouts and content for that vendor or customer. This involves selecting the correct data to be populated and then confirming via a short cut or menu option where/what should be captured going forward. Prior to applying new training, you should always check what training has already been applied.
Go to the 'View' menu.

Select 'Information'.

Select 'Training'.

You will then see a summary of the fields and the training rules applied.

Applying Training
If a field has not yet been trained (and you've checked for any other reason why it may be an issue!) then you can train
specific fields.
Select the field to be trained on the right-hand data pane.

Click on the document to select the right 'area' and content to be trained.

Click F12 to commit the training using the format and location.


Alternately use 'Alt' F12 to train only the location.

If preferred, you can go to the 'Options' menu and select 'Training' to access the sub menu.
Over Training
It is easy to be tempted to train every field whenever it does not immediately populate.
Before you apply training, please do ensure you check it is a genuine issue and appears on many documents. If this is one document amongst many it could be a simple issue with image quality or data mismatch. Overtraining could in the long term cause you more issues!
Removing Training
In some instances, either due to overtraining or the need to update due to document layout changes, training can be
removed by the following:
Click on metadata field on the right pane.

Click 'Ctrl' F12 to remove the applied training.

Training Shortcuts can also be used (see below for the full list).

Unless applying 'clear all training' always select the relevant field first.
Training Shortcuts
Train field based on location and content F12

Train field based on location only Alt + F12

Remove specific training Ctrl + F12

Clear All Training Menu Option Only

Testing Training
Once training has been applied, you will need to double check the changes made have worked and that future documents
will behave correctly. Rather than waiting for another batch to arrive, you can reset the specific current document back to a clean state and check the behaviour of the training.
Go to the 'Document' menu.



Select 'Reset document result'.

Follow the on-screen prompts and click 'Yes' / 'OK' to reset.

If prompted to apply any new training just click 'Yes'.
What (Not) To Do
If the 'Free Text' content is not correct as per the document (due to quality or other issues), review whether you should be applying training to this document at all! If not a consistent issue across all the supplier's documents, do not over train!

Should the 'Free Text' content captured by the software not be the correct as per the document (due to quality or other issues), ensure the content is correct before training as you can train in 'bad habits' of incorrect information.

Functions
Found under Options > Functions when processing a document, these functions are designed to help ease the processing of documents by automatically preforming some of the most common reasons why a document has been stopped in verify.

These functions, by default, will always require a user to initiate them and so will never be ran automatically when an event occurs.
Function Shortcuts

*Please note that these are the default shortcuts. Your environment / project may have differing shortcuts, please look under Options > Functions for your accurate list*
Some of the most commonly used functions include but are not limited to:

Converting a line item into an extra charge F2
Replacing all line items with the value of goods Alt+G
Replacing all line items with data from the matched order Alt+O
Calculate the Value of goods based of the net amounts, extra charges and discount F5

Determine Vendor based on order Number Alt+F1

Clearing

Where a value is unclear to IRIS or when configured to do so, a value for a field can be coloured green to indicate that a user must validate the contents. This is to ensure that the data captured from the invoice is correct. However, in some circumstances, clearing can be activated on a field which tells IRIS not to question the value set inside of it. This will help with the automation of document capture, however this does come with some risk.

This can be found under Options > Clearing.
Common scenarios

Below are some of the most common uses for Clearing:

Overheads - by default, IRIS will require a user to confirm that an invoice doesn't have an order number on it to ensure the correct processing of overheads and purchase invoices. However, in the event that a supplier will never provide you with an order related document, clearing can be activated on the Document Type which will make IRIS not question the lack of an order number

Total NETs - Where not present on the invoice, IRIS will calculate this value and present it to a user for confirmation. If a supplier never quotes the Total NET of the document, clearing can be activated to tell IRIS to never submit its calculation for user approval (unless the total NET calculated doesn't make sense for the captured line NETs, Value of Goods, Carriage, Discount, VAT and GROSS of course).

Value of Goods
-
Where not present on the invoice, IRIS will calculate this value and present it to a user for confirmation. If a supplier never quotes the Value of Goods of the document, clearing can be activated to tell IRIS to never submit its calculation for user approval (unless the Value of Goods calculated doesn't make sense for the captured line
NETs, Total NET, Carriage, Discount, VAT and GROSS of course
).
No Tax present - Where no Tax details are present (VAT rate, Total VAT etc.), IRIS will assume that there is no VAT charge for the invoice. In other words, a Vat Rate of '0' and Vat Total of '0'. If a supplier never quotes tax on their invoice and no tax charge is ever required, clearing can be activated on the Tax Rate which will inform IRIS to never question its assumption.

Currency - Where not present on the invoice, IRIS will default the currency to GBP and require a user to confirm it. In the event where a supplier doesn't quote currency on their invoices, activating clearing on this field will tell IRIS to never question is defaulted value.
What (Not) To Do

Only ever apply training when every invoice received from a supplier follows the same convention. In other words, before clearing is activated on the Document Type, ensure that every invoice received for that given supplier is an overhead. Otherwise, IRIS may process a Purchase Invoice as an overhead if it struggles to identify an order number. Please see the list above for some of the most common scenarios which require Clearing
Commiting Batches
Ultimately the goal of any interaction is to resolve the document to a successful 'tick' and release to any next stages of the
process. Once all the documents within a batch have been validated, deleted or marked for escalation, you can commit the job and close the batch. This is done either by finalising the last field of the last document or by going to the menu option. If you need to leave the current batch due to other commitments or lack of time to fully validate, you can instead select the 'Cancel job' option to return the batch to the job list. Please note this does NOT lose any current changes or work done and can be returned to later (the job list will now note the last user and time accessed).
Open the File menu.

Select 'Commit job'.
Glossary
Default Keyboard Shortcuts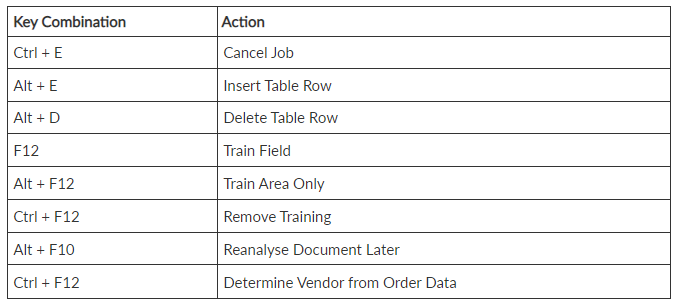 Please note that keyboard shortcuts can be set per customer / project and your environment may be different.
Something Missing?

If you've had a good look through the guide and still can't seem to find what you're looking for, no worries; get in touch with us and let us know so we can assist with the matter and get the knowledge added into this evolving guide. We're here to help and we want to be sure you can get the most use possible out of IRISXtract.