Introduction
You've bought ABBYY FlexiCapture, and you're keen to understand how you can best use it within your business. If that's your scenario, you've found the right guide. FlexiCapture is a product with lots of functionality and it's key to take in all the learning that will be provided to you by Spectrum during your automation journey. Likely, you've bought FlexiCapture to augment a major part of your business and it's absolutely crucial that you use it as efficiently as possible. The guide will be split into a few major parts which you can flick through using the above Table of Contents. As always, we're listening to you and if there's anything you think that's missing, please contact us so that we can best assist you and get the knowledge added into this constantly evolving guide.

Capture Concepts
The goal of capture is to process as many documents with as much data as possible in an automated fashion. This reduces
discrepancies, improves data efficiency and minimises workload.
The core thing to remember is the 100% capture of every single document is not always possible. When capturing data
there are several factors that could cause an issue:
Poor quality scanned image

Not all the pages are present (key data is not present)

Purchase Order data missing or incomplete (when using line items or header level validation)

Suppler details not up to date or complete (i.e. missing VAT reg numbers)

Incorrect data supplied (i.e. No PO number present, incorrect reference used etc.)

In addition to capture, the verify software will assist you in quickly identifying and rectifying issues, or where required identifying a failed document and allowing you to move on without hold ups.
Best Practice
When issues do occur, firstly check whether this issue is data or quality related and can it be quickly resolved? Secondly, is it the first time the issue has arisen, is it the only example out of a larger batch? Or is this a reoccurring issue present on all versions of the document. A key thing to remember; if an invoice for a supplier normally recognises without issue, don't immediately raise an issue. This should be easily resolved and will likely be an exception to the rule.
When to Escalate
The aim of this document is to provide guidance on how best to use the Capture Software and handle issues should they occur, if you are unable to resolve these issues, our support team may be able to assist, or if you are still in the testing stage of the project, please contact your relevant project contact.
Please be aware that it may not be possible to capture every piece of information from every layout of document automatically, even with training.
Opening the Verification Station
Open the Verification Station via the start menu.

Select the image of the folder with a world inside it to open a project from the server.

Input the customer's URL and tenant name:


Tenant: spectrum


Click 'Connection Settings' and Input the user account (if you are installing this for another person, be sure to use theirs).

Click 'OK' twice, then open the relevant project.
Navigation
Changing Between the Batch and Queue View
Click View at the top of the verification station. Then click the view you wish to change to. This can also be achieved using the hot keys Ctrl+ Q for queue view and Ctrl + B for batch view.
Queue View
In every project there will be the two main queues, verification and exception, however more could be added depending on your solution.
Verification – This queue contain all documents which have rule violations and need to be checked and fixed before processing the document on further.

Exceptions – This contains documents

Batch View
Changing the batch view can be helpful to filter out specific batches to allow you to better drill down into where a particular invoice. Although there are many different options the most useful ones are explained below.
All batches except processed: This will show all invoices currently in the system. This does include automatic stages such as scanning which will not require any intervention and exceptions which might have been purposely sent there by another user.

Batches on stages… : This can be used to see all documents in the system if all stages are selected.

Batch with ID…: This is useful to find a specific batch.

Claiming Batches
If you enter a batch by clicking on a queue the batch will have auto claimed itself and as such the claim batch will be greyed out. However, if you have entered a batch in the batch view you will need to first claim it before making any changes to the documents inside it.
Deleting Documents
Before starting with the validation of documents, there may be occasions (due to emails captured or documents appearing amongst a scanned batch), where a document needs deleting from the software. To resolve this right-click on the 'Document' in the list to bring up a context menu, then select delete from the list. You can also left click the document to select it the press 'DEL' on your keyboard.
Merging & Splitting Documents
Much like the occasional document appearing that will need deletion, there will also sometimes be the need to merge or split documents. This can be due to multiple pages appearing in one captured document or multiple page document being scanned using single page separation.
To merge multiple documents into one select the documents you want to merge by clicking each document in turn while holding shift. After all documents are selected right click any of the documents and select merge. Now the document will say incorrect order to fix this you will need to remove the current verification and reapply it to do this right click the newly created document and select clear analytical results once this has finished it will say unprocessed document. Now right click this document and click recognise.
To split the pages, open the document and select the pages you want to split by clicking each document in turn while holding shift. Then open up the document you want to move these pages to and drag the pages into the new document. If you want to create an entirely new document drag the pages to the bottom of the batch to create a new document.
Verification
Different sections of an invoice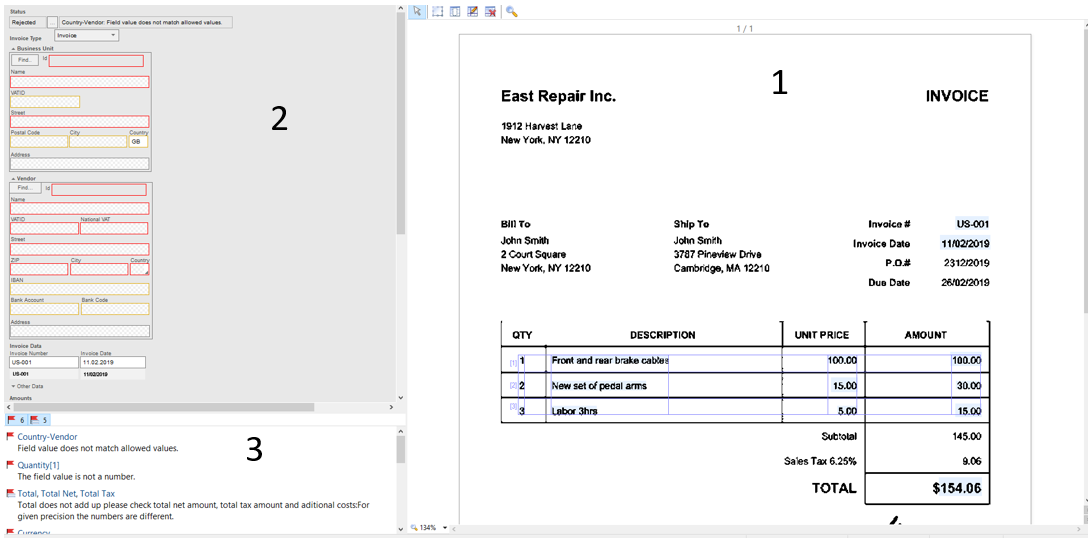 This is the invoice currently being processed.



This is the data being extracted from the document the data in here is what will be transferred to Therefore relating to this invoice.

These are rule violations and warning which need to be solved before processing the invoice further on.

How to capture data from the invoice
There are three ways to add data into a field:

Select the box you want to add data to then when you hover over the document it will highlight the text.



Another option is to drag over the area to select the correct data.

You can also type in the correct data However the system will not learn where the correct area is so only use this as a last resort.


If a value has been mis-typed but is still in the correct area highlight the incorrect value and then type over it as this will allow for training to take process even with incorrect values.
Finding a business unit or Vendor from a database
If the business unit or vendor has been incorrectly found or not found, it can be selected from the database:
Press 'Find'.


Search for the company in the text box.



When you have found the correct company select it by clicking the box in the left section.

Once the correct vendor or business unit has been selected then click the select button.

Creating New Lines
Highlight the entire line you want to capture by clicking and dragging over it.

Once the line has been created select the correct details by selecting the box and then click or highlighting the are you are wanting to capture.

If the line is order-related, it will need an Id associated against it to do this select the three dots (…)

Select the correct line.
Multiple lines
If a document has multiple lines you can set one line and then FlexiCapture can continue the line items below:
Create a line as seen above.

Right-click the selected area.

Select 'Continue Line Items'.
Checking the Purchase Order Lines
You can check what lines are associated with a particular purchase order by pressing the details button to bring up a list of all line items.
Rule Violation
Structure of an error message:


This is the flag which indicates what type of rule violation it is.

These are all the fields affected by the rule violation.

This is a description of the error.

Error Types
Red Flags:
These need to be corrected before the document can be processed further (the invoice number was not captured).
Yellow Flags:
These don't need to be changed to allow the document to continue on in the workflow but are flagged to you (the quantity of line didn't match the quantity of the purchase order).
Validation Errors
These are different to flag errors as it is the system letting you know that it might of captured a value incorrectly this could be due to poor quality of the document. To resolve this correct the incorrect text or if it is correct click into the box area and then click enter.
Resolving Rule Violation
Once all red flag errors have been resolved and all yellow flag warnings have been checked in the entire batch. The batch can be continued on through the work flow.
Keyboard Shortcuts


If you've had a good look through the guide and still can't seem to find what you're looking for, no worries; get in touch with us and let us know so we can assist with the matter and get the knowledge added into this evolving guide. We're here to help and we want to be sure you can get the most use possible out of ABBYY FlexiCapture.