Clearing Errored Workflows
Clearing Errors in Therefore Workflows
This article will guide you through the process on how to clear errored instances in a Therefore workflow. Errored instances can occur when a process in the workflow runs into an issue or cannot route an instance. Clearing the instances will prompt the workflow to try and process this instance again.

Finding and Clearing Errors

Open Therefore Navigator

Open the Workflow Inbox section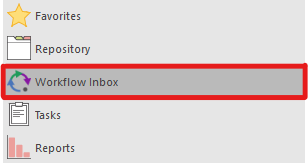 Right-click the workflow in question and select "Show All Error"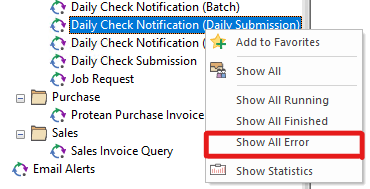 This will show any instances which have run into an error during the workflow.
To clear the errored workflows, you can either:


Right click them and select "Clear Error"



OR

Select the instance in question and select "Clear Errors" from the toolbar at the top



Carrying out this process will clear errors and allow the instances to process successfully, in most cases.

However if you try this and errors are consistently appearing, please contact support@itspectrum.co.uk.
Related Articles

Changing User Assignments in Therefore Workflows

Changing assigned users in Therefore tasks This guide will provide instruction on how to change the users which workflow instances are assigned to in a Therefore workflow. There are multiple methods which are used to assign workflow tasks in ...

Updating a Therefore > Sage DLL in a Workflow

Updating the custom Sage DLL Over time, you may have Sage updated to a new major version for various reasons. However once this is updated, you may come across some issues the a customer DLL task in the Therefore workflow for posting data into Sage. ...

Changing Security Permissions in Therefore

Changing Security Permissions in Therefore This article will show you how to change user/group permissions within Therefore to ensure that users can only access what they need to access. This process applies to both categories and workflow ...

Installing Therefore

Installing the Therefore client software This guide will guide you or your IT team through the installation process for the Therefore software we provide for you. This contains step by step instructions to take you through each stage of the install ...

Using Therefore™

Introduction You've bought Therefore™, and you're keen to understand how you can best use it within your business. If that's your scenario, you've found the right guide. Therefore™ is a huge product and it's key to take in all the learning that will ...